Gone are the days where I thought, a foam roller is just a foam roller. Typically, most people simply buy the cheapest foam roller they can get their hands on and don't really consider which foam rollers are the best… or why.
Back in 2020 when I started the Rollin' With My Foamies classes, I declared I would become the queen of foam rolling, and I think I've done a good job!
I've taken some CPD courses and spoken to various practitioners from Yoga teachers to Osteopaths to get a well rounded view of how to use a foam roller and the benefits of adding foam rolling to your routine.
Types of Foam Rollers
If you've been to my online foam rolling classes or seen my Instagram page, you'll know I have a growing collection of different types of foam rollers. And that's because they each have quite different uses and functions.
Smooth, circular foam rollers – In addition to myofascial release, circular rollers can be used for core and balance work.
Half rollers – similar to circular foam rollers, but are flat on one side. They're more stable than round rollers which makes them ideal for beginners. Due to the flat side, you can't actually 'roll' which restricts what releases you can do with them.
Contoured foam rollers – A form-fitting contoured roller, with specific ridges and grooves, can provide access to hard-to-reach areas of the body with better control, comfort and efficiency than a traditional roller.
Gridded foam rollers – Gridded foam rollers were designed to mimic the touch of a massage therapist. Unlike smooth foam rollers, rollers with grids allow different type of work to be performed dependent upon which part of the grid is being utilised.
The long thin tubular shaped surfaces provide pressure similar to fingers or thumb, whilst the flatter, smooth surfaces provide pressure similar to the palm or forearm.
The three-dimensional surface of a gridded roller creates a variety of pressures from the one roller. The density of the grid roller coupled with the uneven surface can provide work to the deeper tissues in comparison to a smooth foam roller.
How To Use Your Foam Roller
If you're unsure of how to use a foam roller, and you can't make one of my live sessions, you can check out some of the recorded sessions that I have available below.
They're all priced at £4.50 or less and I've included a version – HIIT & ROLL that is a workout and foam rolling session 'rolled' into one.
Your foam roller is perfect for self-massage, pain relief, workout recovery, injury prevention, rehabilitation and physiotherapy exercises.
---
Guided Foam Rolling Classes (Recorded / On-Demand):
15min Foam Rolling For Cyclists
45min Yin inspired Foam Rolling
(available via a weekly on-demand pass)
HIIT & Roll Workout (45mins)
---
So, Which Foam Rollers Are The Best, And For What?
I've spent the better part of a year foam rolling consistently and testing out the rollers in my collection.
Hours of using these rollers for teaching my classes every single week, warming up and activating tight muscles before a run, rehabbing sore glutes when I overdid my workouts, targeting lingering backaches and knots from sleeping funny, and massaging tired quads and hamstrings post-long rides.
Best Foam Roller For Lower Back
Without a doubt, the best foam roller for back pain is the Manta foam roller. It was designed by an Osteopath and is perfect to treat tight and sore muscles all over the body. But, it was particularly engineered to treat back pain and stiffness.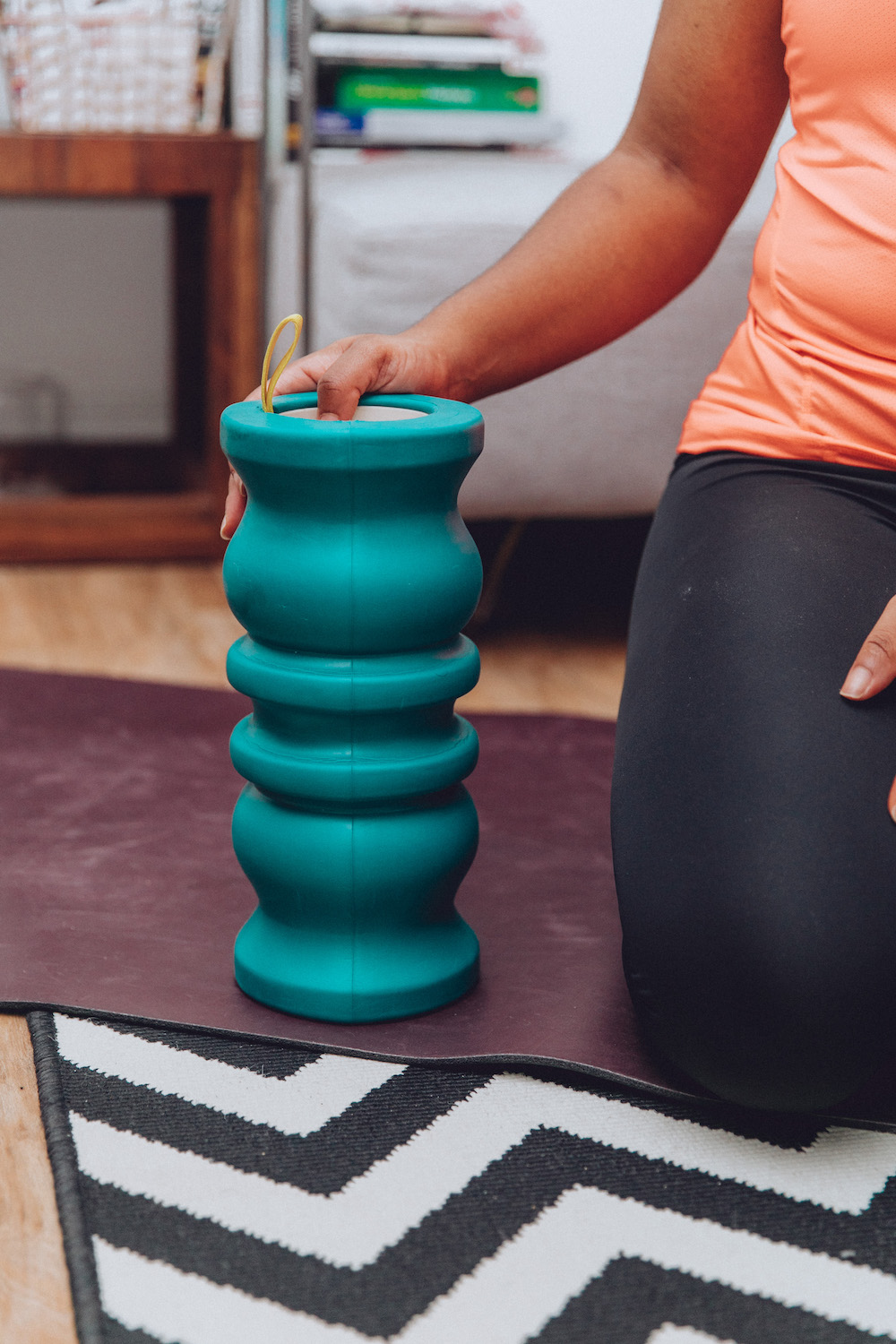 As soon as you see it, you notice the manta foam rollers unique design and shape. This shape targets the most important postural muscles and spinal joints, which other rollers can't get to, in the upper and lower back.
The grooves sit perfectly on either side of your spine which makes rolling your thoracic spine and lower back easy and accessible. More specifically, the central ridges of the roller can reach the important erector spinae muscles and facet joints that run either side of the spinal column.
Whilst the outer curves of the Manta foam roller are designed to reach the muscles of the upper back and ribs therefore providing treatment of the whole back.
Upper back is the area of my body that I like to roll the most. It releases so much tension for me and added with some stretches that you can do seated, helps to undo all the time spent at my laptop or on my phone.
Best Foam Roller For Super Sore Muscles
Now if for some reason your muscles are super tight and sore, or you're sensitive to the pressure of a foam roller, you do have options! The Meglio Lightweight foam roller comes in two lengths – 45cm and 90cm (and various colours).

The 90cm version is handy as it can be used for a variety of purposes other than foam rolling, including stretching, core strengthening, stability exercises, Yoga and Pilates.
As a seasoned foam roller now, I don't tent to use this smooth roller too much but I highly recommend it for beginners or those who are extra sensitive.
Best Foam Roller For Hamstrings & Glutes
Before I got the Power Plate Roller, I really didn't think it would be special. It came into it's own when firstly, I needed to travel, as it's pretty compact and portable. Then, when I had an injury in my glute area, it was the only roller that made an actual difference. I'm pretty sure it played a major part in me recovering quickly.

The vibrations from the roller are perfect for working into big, tight, muscles like glutes and hamstrings. It just gives you a deeper massage than using body weight alone.
The Power Plate Roller is recharged via USB, has a 4 hour battery life, a massaging texture as well as 4 vibration intensity levels.
After trying the vibrating foam roller, I'm also keen to try a massage gun as so many people rave about them – check out the Power Plate Red Pulse. Have you tried one?!
Best All Rounder Foam Roller
Out of all the foam rollers I've tried so far, the Meglio Grid Foam Roller gets the title of best all rounder. It's one of the cheapest foam rollers in this list, has a choice of colours and the gridded pattern makes it quite versatile.
Compared to other foam rollers, this one is really lightweight weighing under 250 grams. But Meglio say they haven't sacrificed the durability or strength of the foam roller to get it so light.

As mentioned earlier, the various grids are there to emulate the touch of a massage therapist and as such, certain areas can get quite deep or intense. Typically, you can adjust the intensity using your bodyweight which makes this roller versatile even though it can be quite uncomfortable at times!
---

I've been meaning to write this post for almost a year now, especially as so many people ask me for my opinion on which foam roller I think is the best. It's hard to decide… and hopefully this post explains why!
So which foam roller do you think is the best? Or which one did you buy?
Elle
Pin Me For Later: